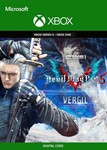 The key for Devil May Cry 5 + Vergil will be displayed on your screen immediately after payment, and will also be delivered to your e-mail address, which was specified at the time of purchase.
You will need a VPN to activate the key. This is required to redeem the key. After that, you will no longer need a VPN.
Title: Devil May Cry 5 + Vergil
Activation: Microsoft Store
Product type: Activation code
Region: Turkey
Supported devices: XBOX ONE, XBOX Series X|S
The ultimate Devil Hunter is back in style, in the game action fans have been waiting for. Now includes the Playable Character: Vergil downloadable content (also available separately).

A brand new entry in the legendary action series, Devil May Cry 5 brings together its signature blend of high-octane action and otherworldly original characters with the latest Capcom gaming technology to deliver a graphically groundbreaking action-adventure masterpiece.

Please check your previous purchases to avoid duplication.
/delivery
When you leave positive feedback, it helps us become better!Rules for the replacement of goods and refunds:
To get a replacement if the code is invalid - contact us by correspondence. If we are unable to provide a replacement, a refund will be issued./delivery