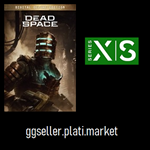 ✅💲 INSTANTLY AFTER PAYMENT YOU GET 💲✅ :
Login and password for a shared account, with licensed games, for playing from your personal account and instructions.
✅ GAMES : ✅
DEAD SPACE REMAKE DELUXE EDITION ( 2023 ) Xbox Series X|S
Watch our video before buying and decide everything, no "pig in a poke", simple activation 😉 https://youtu.be/of9DPi-Zyg8
- You play immediately from your account, with all the achievements, fully online and the story, by performing a simple activation
- ❗ These videos are our property and are prohibited for use by other sellers ❗ These videos only work on our accounts and no one else ❗ Be careful ❗ We always try to be the first to release new and better ways to launch games for you.
✅ Here you can see all our products https://ggseller.plati.market , many thanks for your attention ✅
✅ Bonuses : ✅
- 5 percent cashback for a positive review, a huge plus in karma, plus a thousand, to all your characteristics 😅 ;
- Permanent cumulative discount from 5 percent, immediately after the first purchase;
- Great mood from a great game;
✅ METHODS OF PAYMENT AND RECEIVING GOODS: ✅
- Delivery of goods is instant, at any time of the day or night, your personal account is available on oplata.info, there are all your purchases, gifts and correspondence;
- No commission, we pay it for you ourselves, but if you pay through "LAVA" or "ENOT.IO", then ten times a huge thank you!
✅ BY CLICKING "BUY", YOU AGREE TO EVERYTHING BELOW, ACCEPTING THE TERMS: ✅
- The money you paid is non-refundable;
- Support Only Russian Language
- Without the Internet, games do not start;
- We are not responsible for goods that are damaged or not working through no fault of ours;
❗ Prohibited: ❗
- Make an account home;
- Any modifications and changes to accounts;
- Playing from an account, it only serves to launch and download games;
- Purchase of any subscriptions to the account;
- Transfer and resale of the account;
- Using an account on any sites and devices, except for your Xbox;
✅ WARRANTY : ✅
- We provide a security code, for 3 months or more, from the date of purchase, no more than once a month;
- We provide a password, when replacing it, throughout the life of the game account, from the date of purchase;