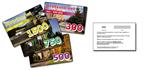 Your purchase will be equivalent to the acquisition of plastic INTERNET Map Company protvino.net

Online Map protvino.net 500 rubles


* After payment of the product you will receive: the card number, the activation code (which will be required to replenish the balance in your account.

* Service: protvino.net


Support: +7 (4967) 316666, +7 (4967) 128406, admin@protvino.net


Dear customers, please leave feedback after the purchase.

Take for us minutes of your time, we spend a lot more for you.

Thank you in advance.


You can leave a response at the time of receipt of goods or after your purchase at http://www.oplata.info, at this address are stored securely, all of your items purchased by advanced technology Digiseller.ru, will always be able to access them in the future, after the purchase.