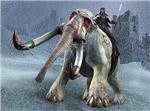 You priobretate code to get in the game War Mammoth. After payment, the code get INSTANT.

This switch gives you the opportunity to:


1) Bags 16 slots.

2) War Mammoth (which can not be bought in the game). Use only with level 40.


How to activate:


1. You must be registered Russian game account.

2. Visit the Account Management page.

3. Enter your login and password.

4. Select the "Use key".

5. In the Open box, type the code received after payment.

6. After that, the information on your account will appear that you have a mount "War Mammoth."

7. Use the in-game command "/ claim" for your subject.


Bonus items will be available for all the characters that you have in the game or that you create in the future.
If after entering the information about your account appears on while mounted or not obtained by means of the command "/ claim" to obtain "War Mammoth", contact customer support and send an e-mail to Aocsupport@1c.ru with your username and code for "War Mammoth." Please heed that on weekends (Saturday and vostkresene) those. Support does not work and you will not be able to do.
http://forums-eu.ageofconan.com/showthread.php?t=111986