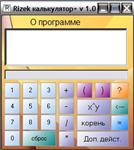 Rizek Calculator + is a mathematical parser, which has many differences, he usual calculator:

1) Ability to record not simple expressions (1 + 2.3 / 4 m) and examples

2) Very convenient recording system contravene the complex such as push to build a number to a power, opens a window where we enter the number and extent, click OK, and formed a record is added to the input line.

3) The convenient location of the keys, which are divided by color groups.

4) When an error occurs, the calculator will specify where you'd be wrong.

But as it is possible to add that the program is a failure only 1 file and does not require installation!