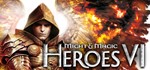 The story of Heroes VI, which develops 400 years before the events of Heroes V, throws a family of heroes into a fast-paced, grandiose story where Angels are going to put an end to their ancient enemies, Faceless, once and for all.

The legendary Archangel General was resurrected, but his powers are not the same. Shrouded in terrible memories of the wars with the Elders, he intends to regain his strength and take control of the whole world of Ashen, destroying both the Faceless and the Demons, arranging a series of organized attacks and treason. But still, he does not forget about the power of the humane Griffin dynasty.

The fate of the heroes of the type of griffins and players will decide.

Key features

Taste the critically acclaimed Heroes gameplay, reworked by renowned developers Black Hole along with many fans of the series.
A unique combination of turn-based strategy and role-playing game: explore incredibly large maps, collecting a lot of resources and building unusual cities. Think tactfully, distributing the levels of your heroes, hiring troops and preparing them for battle on exclusive battle maps.
Only your destiny: lead the heroes of the Griffin dynasty in an intriguing storyline. Choose your path, making informed decisions, and rise to heights with the help of a new reputation system.
The rich universe of Might & Magic: discover new fantastic landscapes and creatures from the world of Ashen. Touch the new 3D graphics and stunning game encyclopedia.
Community: post your content and compete with other players using the new smart community system.
Region RUS+CIS