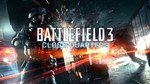 Close Quarters is a new addition to Battlefield 3 for a team game in close combat conditions. Fascinating infantry battles Close Quarters are reinforced by unprecedented destruction in high resolution, new game features, new weapons and endurance testing.
In Close Quarters, all destruction is realized with the highest clarity (HD). To quickly reach the enemy, players can destroy everything around, watching the result of their actions in the form of stone and other debris scattered everywhere.
The close design of the Close Quarters levels and the many possibilities for vertical gameplay force the player to squeeze the most out of his skills (if, of course, he wants to stay alive in this theater of operations).

The main features of DLC Battlefield 3: Close Quarters:
- In Close Quarters you are immersed in a frantic and merciless battle of infantry!
- In Close Quarters, you should always be in motion and look around, as death can come from any angle and at any moment!
- In Close Quarters you are allowed to destroy everything around! Everything! In HD!
- In Close Quarters you earn new weapons, which you can then use in the main game!
- In Close Quarters When completing quests, you get new tokens!
- Play Close Quarters in a new way, implement and mix command tactics, learn to instantly respond to the ever-changing environment around you!