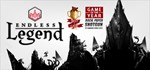 Explore fantastic places
Choose one of eight civilizations, each of which has its own history, path of development and requirements for player behavior.
Fight for existence in a dark and cold era - the sunset era of Auriga, and maybe the whole of your civilization.
You will find an infinite number of unpredictable journeys: worlds and quests are generated randomly.
You can decide for yourself what this world will be: determine its size, shape, topography and much more.